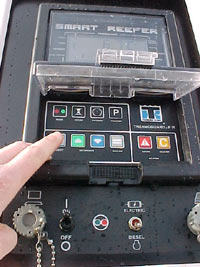 Rivado also looks after the complete temperature control, before and after the unaccompanied transport from and to Great Britain. We check the temperature that our clients indicated to us. We look after the temperature settings and compare the actual box temperature.
This prevents, temperature claims for wrongly cooled transport
At the same time our clients create an extra element of quality for their transports.
When the temperature is not according to specificatrions, we will report and call our clients directly.
At the same time we will reset the temperature if our clients ask for it.
If necessary, we will immediately fix the possible cool motor failure. We have a jump-start facility in our service vans to fix  low battery failure. We will also check  if there is enough fuel in the tank for the period that de cool motor has to run. It is also possible that we fill up the diesel tank of the trailer at the ferry terminal  (temporary fill up 60 liters) or order to fill up in case there is a fuel station at the ferry terminal.
We are able to fix fridges with fuel issues. If needed, we will bleed the fuel system of the fridge.