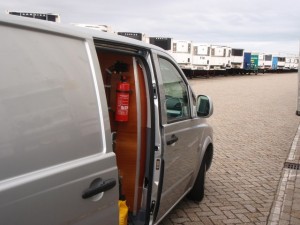 Rivado is a company with uses state of the art equipment. We look after unaccompanied shipped trailers going from England to the Netherlands. We check the trailers for additional damage and confirm that they are in a good condition  to be shipped again. We are specialized in testing  fridges and looking after climate-controlled meat- fruit- vegetable- and flower unaccompanied trailer transports. Our company is based in Maasdijk, close to several ferry companies and close to vegetable- and flower auctions loading locations.
Key points:
– more than 15 years of experience.
– leader in checking unaccompanied trailers.
– excellent service and value for money.
– a ferry-wide reputation for superior quality checking's.
– giving companies a high trailer efficiency every day.
– present at the Dutch ferry terminals DFDS Vlaardingen and
Stena Line Hoek van Holland when ferry ships are unloading your trailers.
Rivado is a dynamic and typical "no nonsense" company.
Service is our best quality. In this way we give confidence and reputation
to all our customers and ferry companies.
Rivado : an indispensable part of your logistics chain!  Enjoy our service !